I seriously can't believe August is almost over. I really can't believe that THIS Saturday we will be watching our beloved BULLDAWGS play their first game of the season! EEK! I am so excited!
But in the mean time I have some sexy book reviews to share with y'all! Remember Rated R novels are my guilty pleasure. I have 9 Romance novels and 1 Personal Development Book to review.
July was a little crazy so I didn't get a book review up so this post I will cover July & August!
Till There Was You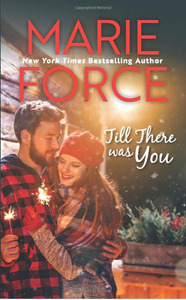 AMAZON:
Lucas Abbott and his identical twin grew up sharing everything—including a reputation for funny, idiotic behavior. But now that Lucas is ready to shed that lovable-idiot image, grow up and have a real, adult relationship, the joke's on him. He and his twin have fallen for the same woman.Crushed and hoping a few days on the slopes will work out his frustrations, he heads for Stowe, Vermont. All thought of fun and relaxation flies away as a car spins out in a snowstorm, and his firefighter/paramedic training kicks into high gear.Danielle Ryan is hoping to pick up the pieces and build a new life for herself and her daughter in Vermont. Winding up in a ditch in the middle of a blizzard isn't part of the plan—and neither is the kind, sexy rescuer whose strong hands pull them to safety.Lucas has been a little kid, a big kid and now an adult—and he discovers that adulting has more than one advantage. Especially when it comes to sharing with Dani and Savannah the one thing that's his and his alone: his love.
Reading Order for Green Mountain/Butler, Vermont SeriesGreen Mountain Series
Book 1: All You Need Is Love (Will & Cameron)Book 2: I Want to Hold Your Hand (Hannah & Nolan)Book 3: I Saw Her Standing There (Colton & Lucy)Book 4: And I Love Her (Hunter & Megan)Novella: You'll Be Mine (Will & Cameron's Wedding)Book 5: It's Only Love (Ella & Gavin)Book 6: Ain't She Sweet (Charley & Tyler)
Butler, Vermont Series
Book 1: Every Little Thing (Grayson & Emma)Book 2: Can't Buy Me Love (Patrick & Mary)Book 3: Here Comes the Sun (Wade & Mia)Book 4: Till There Was You (Lucas & Danielle)
Heather: I loved this book just as much as I loved the other books in the series! I highly recommend
Adore Me
AMAZON:
Morgan Barrett is off limits. Why? She's my best friend's sister and insists that she isn't interested in a relationship. That didn't stop us from sharing one incredibly passionate night together. However, one night was not enough for either of us. I want more. She needs more.When we give in to the temptation, something amazing happens. But can we keep the past from destroying the future we both desire? Adore Me is the final book in the Austin Singles series.
Suggested reading order:Seduce Me Entice Me Adore Me
HEATHER: I love all Kelly's books and this one was no different.
Play Me
AMAZON:
She has a head for business and a body for sin. He is a coach who knows how to use his equipment.Neither is looking for love. Should be easy, right? Wrong. This might be the most important game Kendall Wales and Hunter Owens have ever played where everything is on the line. With one wrong play, they could lose it all. Hopefully, the game clock doesn't reach zero before it's too late.
*Play Me is a standalone novel*
HEATHER: This was such a cute read! I love the chase in this book!
The Escort
AMAZON: Brielle

Sometimes life doesn't go as planned. Mine certainly didn't. One moment I was going off to NYU on a fully paid scholarship, and the next, I had become something I never thought I would be. I learned quickly and the money I made allowed me to pay for my mother's chemo treatments. Once all of our debts were paid off, I met a man and got out of the business. Then a string of events forced me back inside the world of escorting. But this time, things were different. I built a business and became a high-end escort to the wealthy of the wealthiest; to men who paid me well and allowed me to live a comfortable life. Then one night at an event, I met a man. A sexy, rich, single man who paid me a ridiculous amount of money to spend one night together. I broke my number one rule: Never fall in love with a client.

Caden

The moment I saw her, I had to have her. I knew what she was, and I didn't care. I would pay any amount of money for one night with her. After our night was over, I wanted more. I craved more. She was the perfect woman and I didn't have to worry about her wanting a relationship or falling in love. I made her an offer she couldn't refuse. I owned her. Everyone has a price. Then things became complicated, and the more time I spent with her, the more my past haunted me. Feelings for her started to take over, but the demons inside me kept me in check, reminding me of what I'd done and making sure that I'd never make the same mistake again.18+
HEATHER: This was a fun quick read.
One Night in Paris
AMAZON:
Anna I have two rules in life:1.Never marry someone you're not in love with.2.Do what makes you happy and not what's expected of you. I flew to Paris to spend my honeymoon alone after I left my fiancé and my life standing at the altar in California. I had my reasons and I wasn't going to let a perfectly good trip go to waste. My first night, I met a captivating man who was there on business and leaving the next morning to fly back to the States. I knew nothing about him, only his first name. Our one night together left a mark on me that I'd never forget. Little did I know that when I moved to New York, he'd be the man I'd be working for, a temporary job that fell into my lap by accident. My life was complicated enough, and it was about to get a whole lot more complicated.
Wes One night in Paris. That was all it took to make my trip complete. She was beautiful, smart, and addicting. I wanted to stay, but I couldn't. Why make things harder than they had to be? I flew back to New York and went about my business, trying to forget the one night we shared. Imagine my shock when I saw her standing in the doorway of my conference room as my temporary personal assistant. I had trust issues as it was when it came to women and for good reason. She lied to me and I couldn't trust her. She was complicated. Her life was complicated and now my life was feeling the same way.18+
HEATHER: Another fun quick read.
Perfectly You
AMAZON: JAKE

- I first saw Charlotte Foster on the sidewalk in Seattle when the contents of her purse were scattered on the cement. Bending down, I offered my help, and when she looked up, a bolt of lightning tore through me. She was sobbing and a complete mess, yet the most beautiful woman I'd ever seen. That night, I saw her again at a bar. She was alone and very intoxicated. I helped her into a cab and made sure she got home safely. After putting her to bed, I left a note, walked out the door, and headed back home to Los Angeles. Imagine my surprise when she showed up for an interview at my architect firm one month later. Her world had crumbled and she was searching for a fresh start. I wanted to be her fresh start and convincing her that we were meant for each other was going to be the toughest challenge of my life.

CHARLOTTE

– My perfect life was shattered by a simple phone call, and in a split second, my world came crashing down around me. After a night of heavy drinking and bar hopping, I awoke the next morning to a note from a man named Jake explaining how he made sure I got home safely. Little did I know that the man who helped me on the sidewalk that day and home from the bar that night, would be my new boss when I moved back to Los Angeles. He was oh so sexy and the nicest man I'd ever met. Falling for him was easy, but my fears and mistrust kept me in check. He saved me on more than one occasion, and being the hot mess I was, I needed to save him from me.18+
HEATHER: I really really liked this book. Jake is Hot and Nice :)
Fear is my Homeboy
AMAZON:
In
Fear Is My Homeboy
, author Judi Holler has a message: It's time to stop letting fear boss you around so you can start leveling up personally and professionally. This is a book for people who believe that they deserve more. Holler focuses on helping the reader shut down self-doubt so they can start taking action. After reading this book Judi promises that you will get braver, bolder, and more confident in your natural-born badassery.
Inspired by her improv theatre background at The Second City Training Center's Conservatory in Chicago and building off her decade of speaking, sales, and marketing experience, in addition to her current role as a business owner, Holler's book is your own personal life coach and cheerleader. In it she shares valuable, actionable advice on how to accept&and even embrace&fear, so readers can start to live more balanced, successful, and fulfilling lives. Holler's mission: to stop fear from stealing your opportunities so you can start connecting in powerful and profitable ways
HEATHER: I LOVED this PD book. I took a lot away from it and it will be one I read again and again!
All It Takes
AMAZON:
Quinn Cavanaugh doesn't do anything halfway. He drives fast, works hard, and plays even harder. And the word "commitment" doesn't exist in his dictionary. He has no plans of settling down with one woman for he needs to be free to move on to the next big thing—whatever or whoever that may be. Each party knows the score going into it, and it's all been working out fine. That is, until a sexy new colleague enters the scene.
Sienna Hendricks doesn't give much thought to Quinn and the revolving door leading to his bedroom. She's way too picky about who she shares her time or her body with and screwing around with a colleague isn't part of her plan either. Quinn doesn't intimidate her. And unlike most other members of her sex, she doesn't melt into a puddle at his feet whenever he's near. Most importantly, she has no issues telling him no.
But for a man who has the world at his feet, Quinn isn't accustomed to being rejected. And he's not about to let that change—no matter how persistent Sienna is. To his surprise, Sienna is everything he thought he'd never find. Pursuing her, and convincing her he's changed, is going to be the biggest challenge of his life. One he's completely up for….
HEATHER
: Y'all know my love of Kristen Proby runs dead so it's no surprise that I LOVED this book!
Carter Grayson
AMAZON:
By the age of thirty, I had suffered more tragedies in my life than anyone should ever have to experience. Because of those tragedies, I lived in a world of darkness and despair. Even though I ran and owned a multi-billion-dollar enterprise that I saved from bankruptcy, had more money than I could spend, and lived in a high-rise penthouse on Fifth Avenue, my life was still desolate and empty. I closed off my heart and myself to everyone. Anger had become my best friend and I'd never let anyone get close to me again. This was my life until a woman named Zoey Benson crossed my path. For the first time in over five years, I felt something. A feeling that I had long buried deep inside me. A feeling I never wanted to experience again. She wanted to be my savior and I sure as hell didn't want to be saved. Carter Grayson is a stand-alone novel told in two different POV's.
HEATHER: This book made me feel all the emotions: happy, sad, crying, laughing. It was a really good read with a hot dominating male character. :)
Already Gone
I received an ARC Copy of this book.
AMAZON:
Falling in love is easy…
New Hope, South Carolina is my home. It's where I grew up, got into trouble, and fell in love for the first time. Scarlett Kincaid was more than the girl next door, she was my best friend, until she decided that small town life wasn't for her.
The girl I used to fish with down at the creek is now the biggest name in country music, and I haven't seen her since she left. Until today when she sped through town in her fancy car. One look at her big brown eyes was all it took to stir up a whole slew of emotions. Emotions I'd long ago buried and sure as hell don't have time for.
It's the aftermath that's hard…
There are two things in my life that matter. My music, and my dad. Twelve years ago, I packed a bag and chased my dream. I never planned to return home, but my father needs me, and he always comes first. So, I cut my tour short and came home, despite having a sister who hates me, and a community that doesn't trust me. And then there's Tucker Andrews.
When he propped an arm on the roof of my car, pulled down his sunglasses and flashed his police badge, I nearly swallowed my tongue. Gone is the lanky boy who used to throw rocks at me and pull my pigtails. Tucker is now a six-foot package of brawny, sexy man wrapped in more muscle than I have hit singles. Did I mention he's a cop and a single dad?
My goal was to help Dad, and get back to my life. But what am I supposed to do when the life that used to strangle me suddenly fits like a glove, and makes me dream of things I never thought I'd have? I don't have room for a man much less love.
Right?
Because it's impossible to hold onto someone who's already gone.
HEATHER: Oh how I LOVED this book. It is a MUST read.
So what have you been reading lately?? What should I add to my MUST READ list?